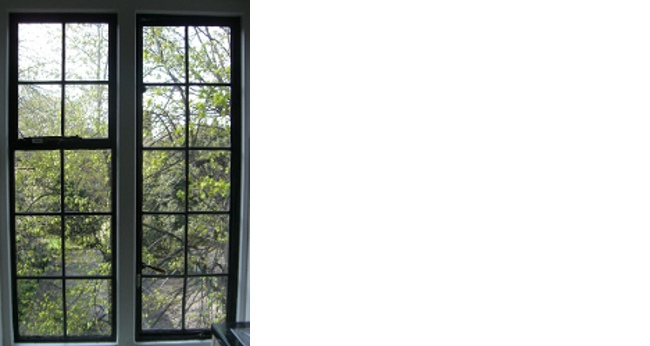 All the flats at Manor Fields have distinctive steel-framed Crittall windows, made by a company in Essex and associated with the art deco and modernist movements of the early 20th century. These windows can be found in thousands of buildings in Britain, continental Europe and North America, including the Houses of Parliament, the Tower of London, and Yale and Princeton universities in the United States.
Leaseholders own the windows as part of their demised premises and are responsible for their upkeep.
Manor Fields is in a conservation area and any change to the external appearance of the buildings, including windows, requires consent, first from The Manor Fields Estate Limited and then from the local authority. Wandsworth council has approved a design for double-glazed windows and two firms are now manufacturing them. Installation is at the lessee's expense. Ask the estate office for more information.
Do not spoil the appearance of your flat and the estate by putting up posters or hanging clothing or laundry in the windows, where they would be visible from outside.
Lessees are required to hang curtains or fit blinds on all windows.
Condensation
Condensation on windows and walls is a common problem that can damage or deface paintwork, curtains, blinds, window fittings, tiles and wallpaper. It can rarely be blamed on the way our homes have been designed or built and is usually a consequence of the way we choose to live. Fortunately, the remedies are simple.


The main cure is proper ventilation to prevent cold surfaces attracting water vapour that enters the air from cooking, washing, gas heaters, indoor plants and even our breath. The vapour condenses into droplets of water when it comes into contact with any object that is colder than the air in the room.
The level of moisture in the air can be reduced by opening windows, and making sure that the original airbrick ventilators in kitchens are not covered up, that hobs are fitted with cooker hoods and that bathrooms have extractor fans.
All of these measures, which are free or relatively inexpensive, involve the loss of a small amount of heat but they replace potentially harmful damp air with cool, dry air. Double-glazed windows do not normally have cold interior glass and are therefore less likely to attract moisture than the single-glazed Crlttall windows at Manor Fields.
Window cleaning
The windows in the communal areas are cleaned four times a year. Leaseholders must make their own arrangements for cleaning the windows of their flats.