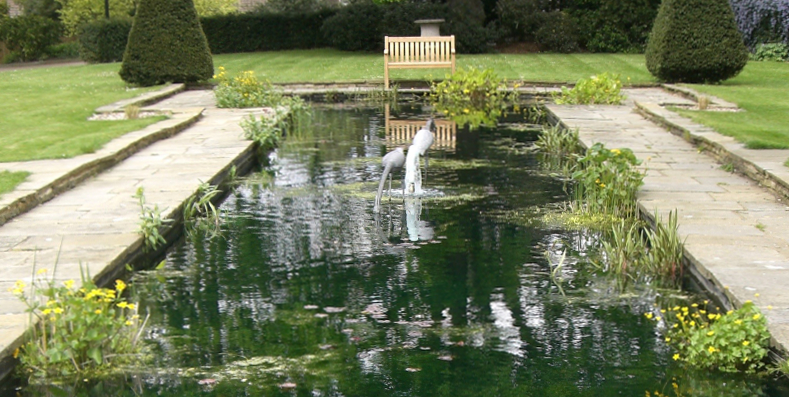 The extensive gardens are among the most beautiful features of Manor Fields. All parts of the grounds are communal but remember that Manor Fields values its tranquil environment, so please respect your neighbours and keep noise to a minimum. The area between the Heath gate and the woodland copse (where the sundial is situated), and the sunken garden around the ornamental pond are designated quiet areas.
Dogs
For the safety of both dogs and residents, all dogs must be kept on a short lead at all times when outside anywhere on the estate. During the summer period of 1 May to 30 September, dogs are not allowed on the main lawn, the south lawn or sunken garden/pond area.  Please avoid areas on the Estate where residents regularly sit and children are likely to play.
All dog owners must collect and hygienically dispose of any animal waste that their pet deposits on Manor Fields. However, given the accessible proximity of Putney Heath, we would be grateful if all dogs could be actively encouraged to do their regular toileting outside of Manor Fields if at all possible (urine can also cause damage if an area is continuously used as a favoured toilet spot). There are specific waste bins provided on the Heath for the disposal  of animal waste.

No more than one dog or cat may be kept in each flat. Pet owners are asked to be considerate of their neighbours and to ensure that pets do not cause undue disturbance.
Safety
■ Skateboards, rollerblades, children's scooters and children's bicycles are not allowed on any of the roads on the estate without adult supervision. Kites, drones and similar devices may not be flown on the estate.

■ The speed limit is 15 mph on the estate roads and must not be exceeded.
■ Climbing trees, swinging from the branches or using trees for exercise regimes are prohibited for safety reasons and to protect the trees from damage.
■ Foxes are wild animals and must not be fed or encouraged in any way. They can spread disease, dig up the flowerbeds and pose a threat to the safety of children.
■ Do not play radios or musical instruments in the gardens, or leave toys or furniture in any areas of the grounds overnight, as they may be removed.
■ The main lawn is ideal for children, as there is plenty of room to play. Soft balls may be used by toddlers and small children, but other ball games are not allowed in case of damage to vehicles or property.  Reflecting Civil Aviation Authority guidelines, drones are not permitted on the estate.