Jekyll designs
Gertrude Jekyll, the horticulturist and garden designer, and the architect Sir Edwin Lutyens formed one of the most influential 20th-century landscape partnerships. They were part of the arts and crafts movement that sought to preserve rural traditions, fighting against industrialisation and mass production. There is no evidence that Jekyll was a specific influence on Manor Fields, but the buildings were influenced by the arts and crafts romantic style.
Jekyll loved the cottage garden and reinterpreted it in many landscapes. She became known for what later became termed the traditional border. She was greatly influenced by Impressionism and J.M.W. Turner, and frequently planted in broad, harmonious colour graduations.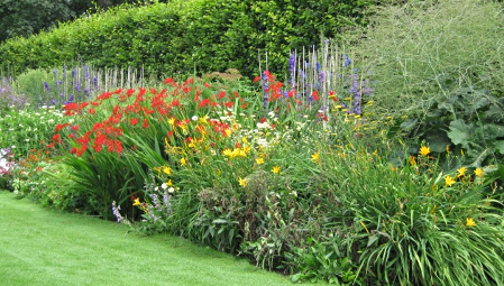 Graduated colour in the kind of herbaceous border loved by Jekyll.
In her larger designed gardens further away from the house, Jekyll used the influence of the gardener and journalist William Robinson, whose style included wild flowers and drifts of spring bulbs.
Traditional herbaceous borders are heavy on preparation and maintenance because the soil needs to be deeply cultivated, tall plants need staking and all the plants need regular dead-heading to maintain their performance. The plants should be lifted and divided regularly to regenerate them and herbaceous borders offer little structure or year-round interest.
These reasons explain why so few Jekyll gardens remain as originally planted; they are just too labour intensive. Most have been replaced by mixed borders of shrubs and perennials.
Low-maintenance perennial planting
The American partnership of the plantsman Wolfgang Oehme and the architect James van Sweden, which started in the mid-1970s, mirrors that of Lutyens and Jekyll. Similar to Jekyll's naturalistic style through her adaptation of the cottage garden, Oehme and Van Sweden adapted ideas from the American prairies. They used large, flowing, layered blocks of perennials, many of which would keep their structure throughout the winter, such as sedums, Phlomis and grasses.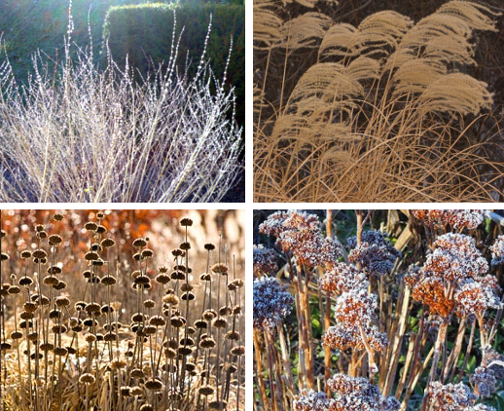 Winter structured perennials suitable for the British maritime climate.
Many of these plants were unavailable to Jekyll and her planting palette. Oehme and van Sweden carefully chose the plants to be self-supporting, disease-resistant and tough. They could easily be maintained by inexperienced staff with limited inputs of fertilisers, pesticides and water.
More recently these ideas have been further developed with the climates of the Netherlands and Britain in mind by the likes of Piet Oudolf and Tom Stuart-Smith. Many Stuart-Smith-designed gardens are highly structured spaces, yet in keeping with traditional English country estates. The New English Garden style involves the use of modern perennial plantings that work well alongside traditional buildings.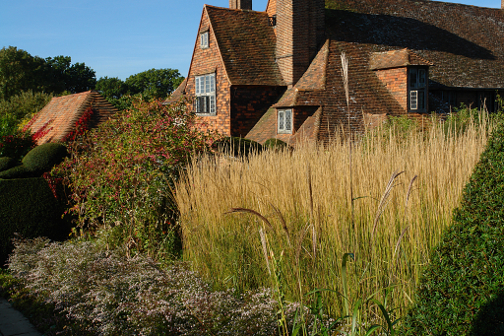 Ornamental grasses in a traditional setting at Great Dixter, East Sussex.
There is a distinction between different perennial species and longevity. In reality, some perennials are non-clonal; they cannot propagate themselves by vegetative means and tend to have a maximum lifespan of around five years. Examples are species such as Verbena bonariensis and Echinacea. Other, true, perennials are long-lived and clonal; they propagate themselves via vegetative means — either phalanx (clump forming) or guerrilla (spread via horizontal underground stems). In addition, species said to have a high-persistence spread gradually so do not require digging up and dividing very often, therby reducing maintenance. Examples are Persicaria amplexicaulis, Phlomis, Anemone x hybrida and cespitose grasses. These are the perennial species to focus on planting in attractive low-maintenance designs.
Within our maritime climate great care has to be taken with plant selection. Slugs can play havoc to spring-emerging Echinacea, members of the daisy family known as coneflowers, and clay soils can be too wet in winter or bake solid in summer. Ideally, crisp, cold, frosty winters are required for full effect.
Shrubs and mixed planting
Shrubs offer permanence, structure and presence throughout the year and are low-maintenance and undemanding. Many newer compact cultivars are now available that will not dominate the perennials and roses grown next to them. Shrubs form a vital element in mixed planting and are an essential part of these proposals for Manor Fields gardens.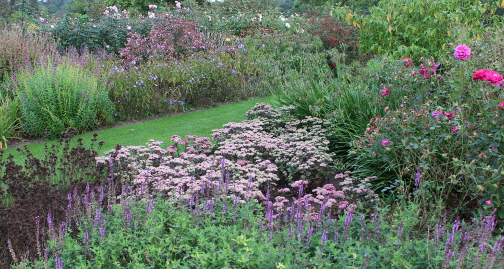 Mixed planting at the RHS Bowes-Lyon rose garden at Wisley in Surrey.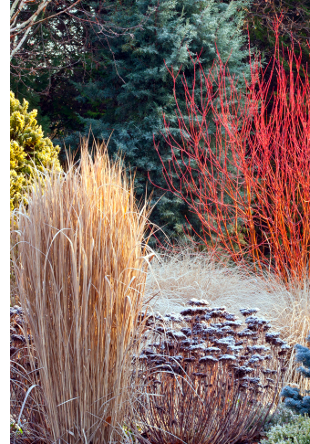 Shrubs when used alongside the type of perennials and grasses described above can be used to form interesting low-maintenance multi-seasonal planting. The aim is to use plants that look good throughout the seasons, rather than just one, to give a hard-working changing display. In the picture on the right, at Bressingham Gardens in Norfolk, this can be seen in the winter. The Cornus sanguinea Midwinter Fire on the right provides wonderful winter colour. The grass, Panicum virgatum Northwind (front left) provides a strong vertical accent to the flat horizontal heads of the Sedum telephium Purple Emperor immediately behind. In the summer, the bright yellow-green leaves of the Cornus provide a wonderful backdrop to the purple of the Sedum, which contrasts in both form and colour with the Panicum.


Cornus sanguinea, Sedum telephium and Panicum virgatum.