The previous section illustrated the application of the proposed planting concepts to the front of Bede House. This section sets out a number of other possible future projects in different areas of the garden that can be subject to different considerations Some are now under active consideration and others have begun; all illustrate the proposed styles.
xxxx■ Fronts of houses
xxxx■ Hedges
xxxx■ Tree management
xxxx■ Pernicious weed control
Fronts of houses
The style of planting at the front of houses is important to the overall impact of the 1930s elements of the Manor Fields gardens. Changes have tended to be incremental as particular areas come up for renovations, without a specific overall plan. There are some common problems: for example, planting close to buildings can cause damp and impede scaffolding, and small patches of grass require high maintenance. Although the grassed areas have been expanded in a couple of cases recently, modern border planting needs lower maintenance than small pockets of grass.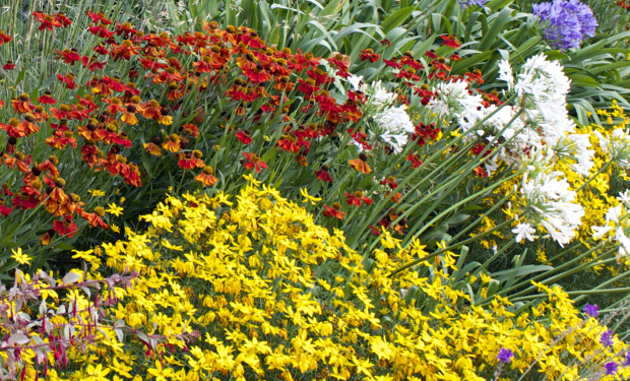 A rich variety of colours in a new bed on the corner of Balliol House.
We are therefore moving to an unplanted buffer zone around the houses, 1-2m wide to the house fronts, using a self-binding gravel such as hoggin. The result is better air flow and reduction of dampness in the flats, easier access for maintenance of, for instance, window frames, and prevention of damage to the planting from scaffolders, builders and window cleaners.
At the same time, the width of planting borders is increased from an average of 1.3m to 3m. Quality, attractive planting is implemented in layers, with a permanent layer of shrubs towards the back and shorter perennials in front.
The changes are illustrated in the before-and-after diagrams of the front of Balliol House (below).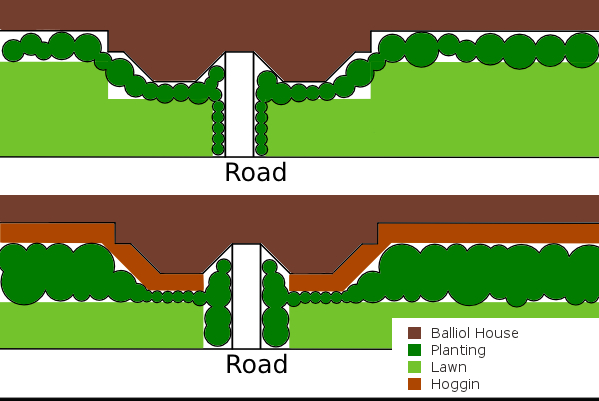 Improvements to soil are necessary along with the repositioning of the borders. We shall create a gentle ground hummock to improve drainage, incorporate good quantities of horticultural grit compost and use a mini-digger for initial cultivation to break through heavily compacted soil pans.
The beds at the back of houses are generally too narrow for comparable treatment. To deal with similar problems, we have in recent years generally focused on restoring and cutting back the mainly yew hedges to their original size and extending the use of gravel and low and low-maintenance planting (as at the southern end behind Bede House). Improvement of the depleted soil is an ongoing aim.
Hedges
A programme of suppressing vigorous growing species that require cutting as many as five times during the growing season, notably privet, has started. Another reason for replacing the privets is that they are particularly susceptible to honey fungus. Mixed shrubs or yews are planted instead: yews are proving particularly resistant to the fungus. The workload and machinery noise will be reduced.
Standard and bright yellow-green yew cultivars will be planted to reproduce the attractive marbled effect in the hedge at Gonville House, for example. Individual privets, such as those behind Girton House, will be replaced by more colourful shrubs, allowing for the shady conditions.
Window boxes
Self-watering window boxes are being tried out at Mansfield and Gonville Houses. The boxes, which are similar in size to the existing ones, contain a reservoir of water and will reduce the frequency of watering in summer.
Tree management
We have regular specialist tree surveys to monitor the health of our trees. We do not have significant space for new tree planting, and most of the necessary planting is opportunistic replacement of defunct trees.
Ideally, new tree planting should be against a picture of what the tree landscape would look like in 25, 50 and 100 years, allowing for the likely remaining lifespan of existing trees. As noted earlier, many of our largest original trees are approaching the end of their life and further work is needed to produce a tree-planting programme for the estate.
To see a copy of the full Manor Fields tree list, click here
Pernicious weed control
Control of weeds and plant disease may generate some significant projects in the future. The only effective control of honey fungus is complete removal of the soil, which is practical only in limited areas, such as the rose beds.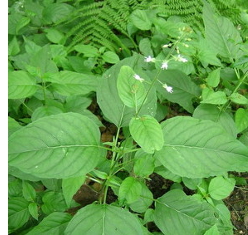 As managers of land, we have an obligation to control weed species such as Circaea lutetiana (pictured right). This involves using a mini-digger to remove the top 30cm of soil, leaving the area fallow for one growing season, treatment with a total translocated herbicide and then filling in with new sterilised top soil. Although expensive, this procedure is used by many professionally managed parks and gardens such as the Royal Parks.