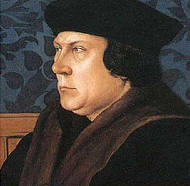 The grounds of Manor Fields include the site of the birthplace of Thomas Cromwell, first Earl of Essex and chief minister of Henry VIII, who was beheaded without trial in 1540 on charges of treason and heresy. Cromwell, pictured above, was born around 1485, the son of Walter Cromwell, a blacksmith, fuller, cloth merchant and owner of an inn and a brewery. Old and New London, by Edward Walford, published in 1878, refers to a survey of Wimbledon Manor written in 1617, which describes "an ancient cottage called the smith's shop, lying west of the highway from Richmond to Wandsworth, being the sign of the Anchor". The Green Man was built more than 300 years ago on or close to the site of this earlier inn and the Cromwell family home was possibly where Armstrong House now stands.
Cromwell worked on the strategy to get Henry's marriage to Catherine of Aragon annulled so that the King could marry his mistress Anne Boleyn but the plan failed to win the Pope's approval. In 1534, parliament passed an Act of Supremacy, establishing the Church of England, with the monarch as its head. Cromwell became vice-regent in spirituals and vicar general. He fell from power after arranging Henry's marriage to the German Anne of Cleves, which was never consummated and ended in annulment after only six months. Cromwell was executed 19 days later.
Oliver Cromwell, who became Lord Protector of the Commonwealth of England, Scotland and Ireland after overthrowing the monarchy during the English Civil War of 1642-1651, was a great-great-grandson of Thomas Cromwell's sister, Katherine.
A tract of Putney Heath, where only a few brave souls were said to venture at night, was bought in 1729 by Percival Lewis, who had made his fortune from sugar and baking, and was, in all probability, the man named in the London Gazette as High Sheriff of Surrey in 1730. Later in the century, he had a manor house built on his land near the Green Man, which had been quenching the thirsts of travellers, highwaymen and duellists since it replaced the Anchor around 1700.
The manor house was bought in 1804 by Archibald Cochrane, who owned plantations and slaves in Antigua, and then in 1815 by Susannah North, Dowager Countess of Guildford. The house was rebuilt for Lady Guildford in 1828 by Sir Robert Smirke, and inherited by her daughter, also Susannah, in 1838. She lived there with her husband, Colonel John Sidney Doyle, who later changed his name to North, and the building was renamed North House. The Dowager Lady Hay occupied the house from 1885 until the early 1900s, when it became successively the home of a French-Polish count and an Irish marquess before it was taken over by the Disabled Officers' Residential Club after the First World War. The last known resident was Major Cecil Wyburn Peters.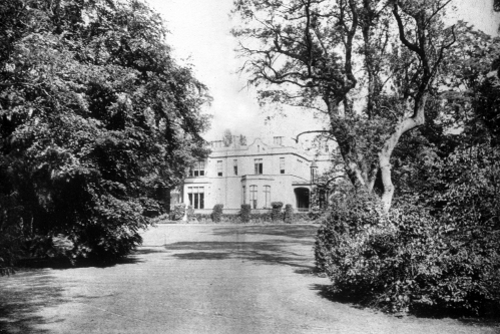 North House in 1900, photographed from the main lawn of Manor Fields.
In 1932, the land was bought by London County Freehold & Leasehold Properties Ltd, which at its peak owned 10,000 flats in 114 buildings around London. North House was demolished to make way for a grand estate of arts and crafts-influenced houses surrounded by gardens that in some cases had been there since the 18th century. Percival Lewis's manor house was remembered in the name chosen for the estate, Manor Fields.
The company commissioned the Laing family firm of builders, forerunners of the present-day John Laing plc, to turn its plans for "a London home in a country setting" into reality at Manor Fields. Fourteen houses together containing 228 flats were named after schools and colleges, mainly at Oxford and Cambridge, and described in the prospectus as being "not luxury, but homes of quiet refinement with every comfort", such as "staircases covered with a rubber carpet", "each flat with its oak-panelled entrance halls . . . and hardwood doors". Rents started at £165 a year for the smallest two-bedroom flat and went up to £460 for a five-bedroom apartment complete with maid's room.
London County Properties was broken up in the mid-1960s and sold to Metropolitan Estates & Property Co in 1969. From then, 99-year leases on flats were sold mainly to sitting tenants. In 1985, these lessees established The Manor Fields Estate Limited, which acquired the freehold of the estate.
Prices increased in successive property booms. A two-bedroom flat in Glenalmond House sold for £9,500 in 1971 and another went for £19,500 in the same year. By 1993, a four-bedroom flat in Balliol House had fetched £39,500. Now, all flats at Manor Fields sell for six, and occasionally seven, figures.
Over the years, Manor Fields has had its own restaurant, petrol pump, postal collection service, bowling green and tennis courts, none of which is still in place. New facilities have been introduced, with others being considered. The Bunker, for instance, has been created from a redundant boiler house, and is now a meeting place, functions room and venue for exercise groups.
Explosions
A gas explosion killed eight people, left many others badly injured and caused extensive damage to one of the houses at Manor Fields in January 1985. It was caused by a fractured cast-iron gas pipe beneath the ground behind Newnham House and led to all the gas mains at Manor Fields being replaced and the roads on the estate being strengthened to protect the pipes. Newnham House was rebuilt to its original 1932 specifications.
During the Second World War Blitz, a single bomb fell on the estate, behind Harvard House, causing considerably less damage than the 1985 gas explosion. Rubble from kitchens and bathrooms damaged by the bomb is still buried in the gardens.